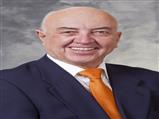 Editor-in-Chief
Hans W. Sollinger
Department of Surgery
University of Wisconsin School of Medicine and Public Health
Wisconsin 53792-7375, USA

Biography
Dr. Hans Sollinger earned his M.D. (1973) and Ph.D. (1975) from the University of Munich, Germany. In 1975 he came to the University of Wisconsin and completed a two-year postdoctoral fellowship in the Immunobiology Research Center and a surgical residency from 1976-1980.
In 1980 Dr. Sollinger joined the faculty of the University of Wisconsin under the leadership of Dr. Folkert O. Belzer. From 1995-2009 he was Chairman of the Division of Transplantation. He was named the Folkert O. Belzer Professor of Surgery in 1996.
Dr. Sollinger is a member of the American Surgical Association, The Transplantation Society, the Society of University Surgeons, the American Society of Transplant Surgeons, and the International Society for Organ Sharing. He is an Honorary Member of the European Surgical Association. He is Past President of the American Society of Transplant Surgeons and the International Society for Organ Sharing. He is on the editorial boards of 14 scientific journals. He was a member of the National Institutes of Health Surgery, Anesthesiology and Trauma Study Section from 1994-1997. In 2001 he was appointed by DHHS Secretary Tommy Thompson to a four-year term on the Advisory Committee on Organ Transplantation, and he served one year as Chair.
Dr. Sollinger received the AST Mentoring Award in 2010, the ASTS Francis Moore Excellence in Mentorship in Transplantation Surgery Award in 2011,the TTS-Roche Award for Outstanding Achievement in Transplantation Science (Clinical) in 2012, and the IPITA Richard C. Lillehei Memorial Lecture Award in 2015.
Dr. Sollinger's curriculum vitae currently lists 501 peer-reviewed publications, five books, and 69 book chapters.
Research Interest
Kidney Transplant, Pancreas Transplant, and Pediatric Kidney Transplant, Pediatric Transplant Surgery