Rachel F Tyndale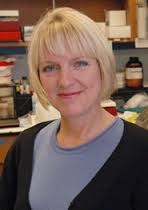 Rachel F Tyndale
Scientist and Head of Pharmacogenetics in CAMH's Neuroscience Department.
Professor in the Departments of Pharmacology, Toxicology and Psychiatry and also the Endowed Chair in Addictions at the University of Toronto.
Research Interest
Dr. Tyndale is investigating genetic risk factors for drug dependence to better understand the mechanisms involved with drug abuse and to optimize treatment approaches. Drugs under study include ethanol, opiates, benzodiazepines and amphetamines with a focus on nicotine and smoking. She is tackling the serious public health issue of smoking and trying to find answers to the questions why some people smoke more than others, and why some find it easier to quit. Dr. Tyndale's goal is to use genetic information to personalize treatment for people who want to quit smoking. The techniques range from molecular identification and characterization of novel genetic polymorphisms to in vivo pharmacokinetic, abuse liability, epidemiological, and treatment studies. Another area of her research involves the study of the unique regulation, function, and toxicity of cytochrome P450 enzymes in the central nervous system. Dr. Tyndale is assessing how commonly used drugs such as nicotine or ethanol regulate these enzymes and the subsequent impact on treatment drugs, as well as drugs of abuse. The techniques range from western blotting and mRNA approaches, to in vitro and in vivo drug metabolism, to behavioural/toxicity studies.
Publications
Global Speakers in the subject
Global Experts in the subject
Peer Reviewed Journals
Make the best use of Scientific Research and information from our 700 + peer reviewed, Open Access Journals
International Conferences 2021-22
Meet Inspiring Speakers and Experts at our 3000+ Global Annual Meetings
Top