Protein Calorie Malnutrition in Liver Cirrhosis
Tahira Sidiq1* and Nilofer Khan2
1Scholar of Dietetics and Clinical Nutrition, Department of Home Science, University of Kashmir, Srinagar – 190006, Jammu and Kashmir, India
2Institute of Home Science, University of Kashmir, Srinagar – 190006, Jammu and Kashmir, India
*Corresponding Author:

Tahira Sidiq
Ph.D, Scholar of Dietetics and Clinical Nutrition
Department of Home Science, University of Kashmir
Srinagar – 190006, Jammu and Kashmir, India
Tel: +919419019313
E-mail: [email protected]
Received date: September 02, 2014; Accepted date: November 30, 2014; Published date: December 01, 2014
Citation: Sidiq T, Khan N (2014) Protein Calorie Malnutrition in Liver Cirrhosis. J Nutr Food Sci 5:337. doi: 10.4172/2155-9600.1000337
Copyright: © 2014 Sidiq T, et al. This is an open-access article distributed under the terms of the Creative Commons Attribution License, which permits unrestricted use, distribution, and reproduction in any medium, provided the original author and source are credited.
Visit for more related articles at Journal of Nutrition & Food Sciences
Abstract
Malnutrition is prevalent in all forms of liver diseases. Protein calorie malnutrition (PCM) is associated with an increased risk of morbidity and mortality in patients with cirrhosis and occurs in 50% 90% of these patients. Although the pathogenesis of PCM is multifactorial, alterations in protein metabolism plays an important role. This article is based on a selective literature review of protein calorie malnutrition in liver cirrhosis. Malnutrition is prevalent in liver cirrhosis due to the presence of ascites, nausea, vomiting, insufficient food intake, malabsorption and metabolic disorders, poor dietary intake, malabsorption, increased intestinal protein losses, low protein synthesis, and hyper metabolism.
Keywords
Malnutrition; Liver cirrhosis; Ascites; Nausea; Encephalopathy; Jaundice
Introduction
The word cirrhosis comes from the Greek word kirrhos, which means orange Yellow. Laennec gave cirrhosis its name kirrhos in 1819 in a brief Footnote to his treatise De l'auscultation mediate [1]. The definition of cirrhosis remains morphological, described by a working party for the World Health organization in 1978 as: "a diffuse process characterized by fibrosis and the conversion of normal liver architectures into structurally abnormal nodules". Protein caloric malnutrition is a syndrome considered as progressive loss of both lean body mass (protein) and adipose tissue (calorie). Significant changes in the metabolism of protein, carbohydrates and lipids appear simultaneously the consumption of muscular and lipid compartments to satisfy a higher energetic demand [2]. This clinical condition is common in patients with chronic hepatopathy and affects 20% of the patients with compensated cirrhosis and more than 60% of these patients with severe hepatic dysfunction [3,4]. Malnutrition is commonly seen in both alcoholic and nonalcoholic liver disease [5-7] and has been shown to adversely affect outcome (Figure 1).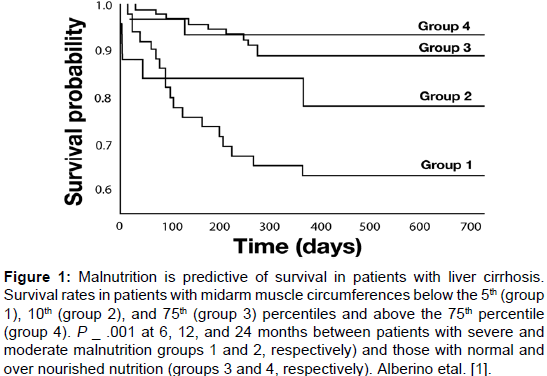 Figure 1: Malnutrition is predictive of survival in patients with liver cirrhosis. Survival rates in patients with midarm muscle circumferences below the 5th (group 1), 10th (group 2), and 75th (group 3) percentiles and above the 75th percentile (group 4). P _ .001 at 6, 12, and 24 months between patients with severe and moderate malnutrition groups 1 and 2, respectively) and those with normal and over nourished nutrition (groups 3 and 4, respectively). Alberino etal. [1].
PCM is associated with a number of complications including development of variceal bleeding and ascites, increased surgical morbidity and mortality, reduced survival, and (in some studies) worsening hepatic function [8-14]. Patients with cirrhosis (particularly those with advanced disease) may also have micronutrient deficiencies. Recognition of macro- and micronutrient deficiencies is important since supplemental nutrition has been associated with a reduction in the risk of infection and in-hospital mortality and improved liver function parameters [15-18].
Materials and Methods
Cirrhosis represents the end stage of most chronic liver diseases. The association of PCM with cirrhosis of any etiology is well-known. A high prevalence of PCM exists in end-stage liver disease. Prevalence ranges from 34% to 82% in patients with alcoholic cirrhosis, based on anthropometric parameters. In patients with nonalcoholic cirrhosis, the prevalence of PCM ranges from 27% to 87% [19]. The largest published nutritional survey showed a 30% prevalence of PCM in male patients and 40% prevalence in female patients with cirrhosis [5]. In one study, 81% of cirrhotic patients had decreased levels of visceral proteins, 59% had abnormal results on immunologic tests and 35% had abnormal results on anthropometric tests [6]. Protein calorie Malnutrition is prevalent in all forms of liver diseases; from 20% in compensated liver cirrhosis to more than 80% in those patients with decompensate disease [8,16,20-23]. Patients with alcoholic liver disease are reported to have a greater incidence of malnutrition than those with nonalcoholic disease [24]. Protein calorie malnutrition has been reported in 100% of those who receive liver transplant and malnutrition is an independent risk factor for morbidity and mortality in these patients. Frequently, patients with end stage hepatic failure will present with muscle wasting, decreased fat stores and overt cachexia. However, many more patients will have subtle changes such as fatsoluble vitamin deficiencies, anemia from iron, folate, and pyridoxine deficiency, altered cell-mediated immune function, and slow loss of muscle mass. [20,24-26]. In a study on 300 patients, Carvalho [27] showed that more than 55% of those with advanced hepatic disease had some degree of malnutrition, which was moderate to severe in 40%. In the same study, 95% of Child-Pugh class C patients were malnourished, as also were 74% of class B and 46% of class A patients [4]. Previous studies in Western patients have documented malnutrition rates from 20% in compensated liver cirrhosis up to 60% in decompensated liver cirrhosis [28]. The estimated prevalence of hyper metabolism varies considerably, with the largest study of 473 cirrhotic patients reporting 34% [29]. A smaller study of 50 cirrhotic patients found only 2 hyper metabolic patients [30].
Assessment of Protein–Calorie Malnutrition in Cirrhosis
The traditional nutritional assessment techniques used for most patients and healthy control subjects do not translate well to cirrhotic patients. The diagnosis of depletion of the visceral protein compartment in cirrhotic patients is particularly troublesome because most nutritional markers are proteins produced in the liver. Levels of albumin, prealbumin, and retinol-binding protein, as well as immunologic parameters such as total lymphocyte count and delayed hypersensitivity reactions, is all abnormal in patients with cirrhosis. Estimation of fat and muscle protein compartments by anthropometry of the upper extremities has been used by most investigators to determine the prevalence of PCM. New assessment techniques such as bioelectrical impedance have proven unreliable in cirrhotics with ascites or edema [9]. Perhaps the most accurate technique of nutritional assessment in patients with cirrhosis is the measurement of body cell mass. Body cell mass has been shown to decrease even in early stages of cirrhosis [31]. Objective parameters that may be helpful when monitored serially include anthropometric measurements and dietary intake evaluation [32,33]. The best way to perform a nutrition assessment may be to combine these parameters with the subjective global assessment [SGA].
Outcomes of Protein–Calorie Malnutrition in Cirrhosis
Poor nutritional status is associated with a bad prognosis for survival. This prognosis is shown in patients awaiting liver transplantation, decompensated patients with ascites, and cirrhotic patients undergoing abdominal surgery. [34]. Whether PCM is an independent predictor of survival or simply a reflection of the severity of liver insufficiency [15,35]. For many years malnutrition has been suggested as an important factor in the onset of alcoholic liver disease [20,36,37]. The common malnutritional state of the alcoholics, the association between the severity of the alcoholic liver disease and the degree of malnutrition and the experimental production of steatosis and liver cirrhosis upon methyonine- and choline-depleted diets strongly support such correlation [37,38]. Malnutrition is worse in alcoholics from lower social classes, as a direct consequence of the poor nutritional condition [39]. It is well established that alcoholism is the main cause of malnutrition, even with an adequate alimentary supply, due to deficient food intake, anorexia, nausea and vomiting, poor gastrointestinal absorption, inadequate caloric and protein ingestion, alterations in the carbohydrate, protein and fat metabolism and rise in the energetic expenditure resulting from the occurrence of sepsis or ethanol in these patients [22,40]. Malnutrition is yet associated with worse clinical outcomes in cirrhotic patients – leading to complications such as ascites, encephalopathy, hepatorenal syndrome and diabetes [41], besides the association of worse malnutritional status with higher frequency of death [8,42]. In our view and in the view of others, the cirrhotic patients who are more severely affected by malnutrition are more likely to present complications, such as infectious processes, presumably due to immunological deficiencies in the humoral and cellular responses. Since these alterations lead to an increase in the catabolism, which in turn aggravates malnutrition, a vicious circle is established [42-47]. Causes for malnutrition in liver cirrhosis are known to include a reduction in oral intake (for various causes), increased protein Catabolism and insufficient synthesis, and malabsorption/ maldigestion associated with portal hypertension. [8,28,48]. Although a consequence of the disease, malnutrition alone can lead to further morbidity in patients with liver Cirrhosis. Increased rates of septic complications, poorer quality of life, and a reduced life span have all been observed in cirrhotics with poorer nutrition status [49].
Mechanism of Malnutrition in Cirrhosis
A variety of mechanisms are considered to contribute to malnutrition in cirrhosis, poor dietary intake, malabsorption, increased intestinal protein losses, low protein synthesis, and hyper metabolism. Many of these are not fully understood. In advanced liver disease, patients often have poor dietary intake. Recommended diets may be unpalatable because of the sodium restriction needed for control of ascites and peripheral edema. A distortion or decrease in taste sensation (dysgeusia) associated with zinc or magnesium deficiency is well described and may contribute [3]. Nausea and early satiety are well recognized, secondary to gastro paresis, tense ascites, small bowel dysmotility, and bacterial overgrowth [30,50]. Malnutrition is further worsened as patients are often starved, for instance, for endoscopy. In addition, as glucose storage is reduced in alcohol-induced cirrhosis [51] gluconeogensis is active and can cause muscle mass breakdown to provide amino acids for glucose formation [52]. Patients need frequent meals to protect muscle mass, which are not always provided. The metabolic disturbances consequent to liver disease, such as increased energy expenditure [53,54] insulin resistance [55] and low respiratory quotient [indicating reduced glucose and increased lipid oxygenation], [44] may contribute to malnutrition even in the early stages. Hyper metabolic patients tend to weigh less, are more frequently malnourished, and have a higher mortality than normal metabolic patients. The cause of hyper metabolism is unclear, with one group finding no association with sex, etiology, severity of disease, protein depletion, and presence of ascites or tumor. Polyunsaturated fatty acid (PUFA) deficiency is common in cirrhosis, especially in alcoholic cirrhosis, because PUFA synthesis from essential fatty acid precursors occurs in the liver PUFA deficiency has been found in plasma lipids, erythrocytes, platelets, and adipocytes [56].
Etiology of Malnutrition in Liver Cirrhosis
Diagrammatically the etiology of malnutrition in liver cirrhosis is depicted in Figure 2.
There are number of factors which contribute to malnutrition in patients with liver cirrhosis (Table 1).
| Decreased intake | Decreased absorption | Lactrogenic factors |
| --- | --- | --- |
| Anorexia | Inadequate bile flow | Overzealous dietary restriction |
| Early satiety | Bacterial over growth | Frequent paracentesis |
| Ascites | Pancreatic insufficiency | Diuresis (micro nutrient losses |
| Altered mental status/ encephalopathy | | Lactulose therapy |
| Frequent hospitalization | | |
Table 1: Factors that contribute to malnutrition in patients with liver cirrhosis [68].
Some of these factors are related to the disease process itself, such as ascites, causing fullness and early satiety. Other factors are related to frequent hospitalizations, overzealous diet therapy, and "hospital food." In addition, there are metabolic factors such as increased metabolic rate, fat malabsorption, and impaired glycogen stores that hasten the development and expression of malnutrition in liver cirrhosis.
Decreased intake
Inadequate food intake is one of the primary causes of malnutrition and occurs in up to two-thirds of patients with chronic liver disease. Anorexia may result from increased circulating levels of tumor necrosis factor and leptin [57]. Patients with chronic liver disease also have delayed gastric emptying compared to controls. [58]. In those patients with ascites, early satiety and fullness are common complaints.
Altered absorption
Reduced bile secretion due to cholestasis, or compromised hepatic bile synthesis may impair micelle formation, which is essential for digestion of fat by pancreatic and luminal enzymes. The fat-soluble vitamins (A, D, E, and K) are also dependent on micelle formation. Over one-third of adult patients with chronic cholestasis have vitamin A deficiency, and 20–50% of adults with primary biliary cirrhosis are deficient in vitamin D [59-61]. Undiagnosed pancreatic exocrine insufficiency may be another contributing factor to altered absorption in those patients with alcoholic liver disease. Finally, patients with cirrhosis have also been reported to have an increased incidence of small bowel bacterial overgrowth. The prevalence of small bowel bacterial overgrowth in populations with cirrhosis has been documented between 35 and 60 percent of patients [62], which may further alter nutrient absorption.
Energy expenditure
The resting energy expenditure of patients with chronic liver disease is variable. Those patients with acute hepatitis or advanced stages of liver failure have an increased metabolic rate. However, hyper metabolism is not a constant feature of cirrhosis. Approximately 18% of cirrhotics have been reported with hypermetabolism, and 30% with hypo metabolism [39]. The mean deviation between measured and predicted energy expenditure was 11%, which was less than 200 calories per day.
Altered fuel metabolism
Patients with hepatic failure have "accelerated starvation," with an early recruitment of alternative fuel sources. Cirrhotic patients demonstrate significantly increased fat oxidation and gluconeogensis with protein catabolism after an overnight fast. It would take a healthy adult approximately 72 hours of starvation to reach the same level of fat oxidation and protein catabolism as occurs in an overnight fast in a cirrhotic patient [63,64]. It is believed that the diminished hepatic and muscle glycogen stores that occur with cirrhosis are a factor in this accelerated rate of starvation. Patients without adequate glycogen stores utilize increased fat and muscle protein for fuel even during short-term fasting. This contributes to the loss of subcutaneous fat and muscle wasting that is the hallmark of malnutrition. Insulin resistance and decreased levels of insulin like growthfactor-1 are also believed to contribute to muscle wasting in cirrhosis (Table 2) for a list of some of the factors which affect the fuel metabolism in cirrhotic patients.
Increased or decreased metabolic rate
Glucose intolerance/insulin resistance
Rapid postprandial gluconeogensis
Reduced glycogen stores
Elevated leptin
Elevated TNF-a
Decreased insulin-like growth factor-1
Table 2: Metabolic Alterations in Cirrhosis [68].
Pathogenesis of malnutrition
The pathogenesis of malnutrition in cirrhosis is multifactorial [22]. Protein, carbohydrate, and lipid metabolism are all affected by liver disease. Contributing factors include inadequate dietary intake, impaired digestion and absorption, and altered metabolism.
Anorexia, nausea, encephalopathy, gastritis, ascites, and a sodium restricted diet and concurrent alcohol consumption can all contribute to a reduction in dietary intake.
Malabsorption and maldigestion of nutrients can result from bile salt deficiency, bacterial overgrowth, altered intestinal motility, portal hypertensive changes to the intestine, mucosal injury, and increased intestinal permeability [65-69].
Cirrhosis represents an accelerated state of starvation and as such, fuels other than glucose (protein, lipids) are used [21].
There is an overall loss of protein from reduced synthesis of urea and hepatic proteins, reduced intestinal protein absorption, and increased urinary nitrogen excretion. Liver disease is associated with a lowered ratio of branched-chain to aromatic amino acids.
Abnormal carbohydrate metabolism is associated with insulin resistance, impaired gluconeogensis and reduced glycogen stores. As a result, lipids are preferentially oxidized for energy and the respiratory quotient (RQ) is less than in patients without chronic liver disease [21,44]. The RQ is defined as the ratio of the volume of CO2 production to the volume of O2 consumption.
Studies on the effect of chronic liver disease on the resting energy expenditure have mixed results [50,63,70,71]. One study suggested that energy expenditure in patients with cirrhosis was similar to controls after adjusting for body surface area [18]. In contrast, a crosssectional study of 473 patients with cirrhosis found that 34 percent had hypermetabolism as measured by indirect calorimetry [72]. The increase in resting energy expenditure correlated with lean body mass but not with the severity or type of liver disease and was, in part, attributed to an increase in beta-adrenergic activity. Other studies have demonstrated that hypermetabolism persists at least one year after liver transplant and correlates with a reduction in survival [73].
Conclusion
Malnutrition is very common in liver disease and gets worse with the severity of the underlying liver problems. Poor nutritional status is associated with a worse prognosis with respect to mortality, encephalopathy, variceal bleeding and infection. Protein calorie malnutrition occurs in as many as 90% of patients with cirrhosis and leads to a negative prognosis for the patient by increasing the risk of other disease complications. The development of PCM is multifactorial which has strong influence on liver cirrhosis and it is important for healthcare providers to first identify patients at risk of PCM. Second, healthcare providers should provide them with the best and most appropriate nutrition intervention beneficial to patients according to their needs, clinical status, and disease stage.
Author's Contribution
The author of the paper is doing research work on "Nutritional Assessment & Dietary Habits of Liver Cirrhosis Patients in Kashmir" and the subject review paper is part of a research work. Acquisition, analysis and interpretation of data and subsequent drafting of the Review Paper has been carried out.
The Co-Author had sufficient participation in the work and the Review Paper has been framed under her supervision.
Funding Statement
The subject work is not funded by any organization and is a part of research work being carried out by the author.
References
Madden AM, Bradbury W, Morgan MY (1997) Taste perception in cirrhosis: its relationship to circulating micronutrients and food preferences. Hepatology 26: 40-48.
Ma Z, Zhang Y, Huet PM, Lee SS (1999) Differential effects of jaundice and cirrhosis on beta-adrenoceptorsignaling in three rat models of cirrhotic cardiomyopathy. J Hepatol 30: 485-491.
[No authors listed] (1994) Nutritional status in cirrhosis. Italian Multicentre Cooperative Project on Nutrition in Liver Cirrhosis. J Hepatol 21: 317-325.
Caregaro L, Alberino F, Amodio P, Merkel C, Bolognesi M, et al. (1996) Malnutrition in alcoholic and virus-related cirrhosis. Am J ClinNutr 63: 602-609.
Campillo B, Richardet JP, Scherman E, Bories PN (2003) Evaluation of nutritional practice in hospitalized cirrhotic patients: results of a prospective study. Nutrition 19: 515-521.
Lautz HU, Selberg O, Körber J, Bürger M, Müller MJ (1992) Protein-calorie malnutrition in liver cirrhosis. ClinInvestig 70: 478-486.
Sobhonslidsuk A, Roongpisuthipong C, Nantiruj K, Kulapongse S, Songchitsomboon S, et al. (2001) Impact of liver cirrhosis on nutritional and immunological status. J Med Assoc Thai 84: 982-988.
Plauth M, Merli M, Kondrup J, Weimann A, Ferenci P, et al. (1997) ESPEN guidelines for nutrition in liver disease and transplantation. ClinNutr 16: 43-55.
Porayko MK, DiCecco S, O'Keefe SJ (1991) Impact of malnutrition and its therapy on liver transplantation. Semin Liver Dis 11: 305-314.
Siriboonkoom W, Gramlich L (1998) Nutrition and chronic liver disease. Can J Gastroenterol 12: 201-207.
Manguso F, D'Ambra G, Menchise A, Sollazzo R, D'Agostino L (2005) Effects of an appropriate oral diet on the nutritional status of patients with HCV-related liver cirrhosis: a prospective study. ClinNutr 24: 751-759.
Cabre E, Gassull, MA (2000) Nutritional and metabolic issues in cirrhosis and liver transplantation. CurrOpinClinNutrMetab Care 3: 345-354.
Kalman DR, Saltzman JR (1996) Nutrition status predicts survival in cirrhosis. Nutr Rev 54: 217-219.
DiCecco SR, Wieners EJ, Wiesner RH, Southorn PA, Plevak DJ, et al. (1989) Assessment of nutritional status of patients with end-stage liver disease undergoing liver transplantation. Mayo ClinProc 64: 95-102.
Cabre E, Gonzalez Huix F, Abad-LacruzA (1990) Effect of total enteral nutrition on the short-term outcome of severely malnourished cirrhotics randomized controlled trial. Gastroenterology 98:715-720.
Fan ST, Lo CM, Lai EC, Chu KM, Liu CL, et al. (1994) Perioperative nutritional support in patients undergoinghepatectomy for hepatocellular carcinoma. N Engl J Med 331: 1547-1552.
McCullough AJ, Buglianesi E (1997) Protein calorie malnutrition and the etiology ofcir.rhosis. Am J Gastroenterol 92: 734-738.
Mendenhall CL, Anderson S, Weesner RE, Goldberg SJ, Crolic KA (1984) Protein-calorie malnutrition associated with alcoholic hepatitis. Veterans Administration Cooperative Study Group on Alcoholic Hepatitis. Am J Med 76: 211-222.
Charlton MR (1998) Alcoholic Liver Disease: Energy and Protein Metabolism in Alcoholic Liver Disease. Clin Liver Disease journal 2: 781-798
Cheung K, Lee SS, Raman M (2012) Prevalence and mechanisms of malnutrition in patients with advanced liver disease, and nutrition management strategies. ClinGastroenterolHepatol 10: 117-125.
Hehir DJ, Jenkins RL, Bistrian BR, Blackburn GL (1985) Nutrition in patients undergoing orthotopic liver transplant. J Parenter Enteral Nutr 9: 695-700.
O'Keefe SJ, El-Zayadi AR, Carraher TE, Davis M, Williams R (1980) Malnutrition and immuno-incompetence in patients with liver disease. Lancet 2: 615-617.
Marsano L, McClain CJ (1991) Nutrition and alcoholic liver disease. J Parenter Enteral Nutr 15: 337-344.
Pikul J, Sharpe MD, Lowndes R, Ghent CN (1994) Degree of preoperative malnutrition is predictive of postoperative morbidity and mortality in liver transplant recipients. Transplantation 57: 469-472.
Carvalho L, Parise ER (2006) Evaluation of nutritional status of nonhospitalized patients with liver cirrhosis. ArqGastroenterol 43: 269-274.
Coltorti M, Del Vecchio-Blanco C, Caporaso N, Gallo C, Castellano L (1991) Liver cirrhosis in Italy. A multicentre study on presenting modalities and the impact on health care resources. National Project on Liver Cirrhosis Group. Ital J Gastroenterol 23: 42-48.
Müller MJ, Böttcher J, Selberg O, Weselmann S, Böker KH, et al. (1999) Hypermetabolism in clinically stable patients with liver cirrhosis. Am J ClinNutr 69: 1194-1201.
Riggio O, Angeloni S, Ciuffa L, Nicolini G, Attili AF, et al. (2003) Malnutrition is not related to alterations in energy balance in patients with stable liver cirrhosis. ClinNutr 22: 553-559.
McCullough AJ, Mullen KD, Kalhan SC (1991) Measurements of total body and extracellular water in cirrhotic patients with and without ascites. Hepatology 14: 1102-1111.
Hasse JM (2001) Nutrition assessment and support of organ transplant recipients. JPEN J Parenter Enteral Nutr 25: 120-131.
McCullough AJ (2000) Malnutrition in liver disease. Liver Transpl 6: S85-96.
McCullough AJ, Tavill AS (1991) Disordered energy and protein metabolism in liver disease. Semin Liver Dis 11: 265-277.
Merli M, Riggio O, Dally L (1996) Does malnutrition affect survival in cirrhosis? PINC (PolicentricaItalianaNutrizioneCirrosi). Hepatology 23: 1041-1046.
Franco D, Belghiti J, Cortesse A, Boucquey BM, Charra M, et al. (1981) [Nutritional status and immunity in alcoholic cirrhosis (author's transl)]. GastroenterolClinBiol 5: 839-846.
Mezey E (1980) Alcoholic liver disease: roles of alcohol and malnutrition. Am J ClinNutr 33: 2709-2718.
Müller MJ, Böker KH, Selberg O (1994) Are patients with liver cirrhosis hypermetabolic? ClinNutr 13: 131-144.
Müller MJ, Pirlich M, Balks HJ, Selberg O (1994) Glucose intolerance in liver cirrhosis: role of hepatic and non-hepatic influences. Eur J ClinChemClinBiochem 32: 749-758.
Müller MJ, Lautz HU, Plogmann B, Bürger M, Körber J, et al. (1992) Energy expenditure and substrate oxidation in patients with cirrhosis: the impact of cause, clinical staging and nutritional state. Hepatology 15: 782-794.
Caly WR, Strauss E (1993) A prospective study of bacterial infections in patients with cirrhosis. J Hepatol 18: 353-358.
Merli M, Riggio O, Romiti A, Ariosto F, Mango L, et al. (1990) Basal energy production rate and substrate use in stable cirrhotic patients. Hepatology 12: 106-112.
Owen OE, Trapp VE, Reichard GA Jr, Mozzoli MA, Moctezuma J, et al. (1983) Nature and quantity of fuels consumed in patients with alcoholic cirrhosis. J Clin Invest 72: 1821-1832.
Scrimshaw NS, Taylor CE, Gordon JE (1959) Interactions of nutrition and infection. Am J Med Sci 237: 367-403.
Mainous MR, Deitch EA (1994) Nutrition and infection. SurgClin North Am 74: 659-676.
Chandra RK (1991) 1990 McCollum Award lecture. Nutrition and immunity: lessons from the past and new insights into the future. Am J ClinNutr 53: 1087-1101.
Sokol RJ (1994) Fat-soluble vitamins and their importance in patients with cholestatic liver diseases. GastroenterolClin North Am 23: 673-705.
Dan AA, Kallman JB, Srivastava R, Younoszai Z, Kim A, et al. (2008) Impact of chronic liver disease and cirrhosis on health utilities using SF-6D and the health utility index. Liver Transpl 14: 321-326.
Schneeweiss B, Graninger W, Ferenci P, Eichinger S, Grimm G, et al. (1990) Energy metabolism in patients with acute and chronic liver disease. Hepatology 11: 387-393.
Müller MJ, Fenk A, Lautz HU, Selberg O, Canzler H, et al. (1991) Energy expenditure and substrate metabolism in ethanol-induced liver cirrhosis. Am J Physiol 260: E338-344.
Marsano LS, Martin AE, Randall HB (2002) Current nutrition in liver disease. CurrOpinGastroenterol 18: 246-253.
Mendenhall CL (1992) Immunity, malnutrition, and alcohol. Alcohol Health & Research World 16: 23-28.
Greco AV, Mingrone G, Benedetti G, Capristo E, Tataranni PA, et al. (1998) Daily energy and substrate metabolism in patients with cirrhosis. Hepatology 27: 346-350.
Petrides AS, DeFronzo RA (1989) Glucose and insulin metabolism in cirrhosis. J Hepatol 8: 107-114.
Cabré E, Gassull MA (1996) Polyunsaturated fatty acid deficiency in liver diseases: pathophysiological and clinical significance. Nutr 12: 542-548.
Testa R, Franceschini R, Giannini E, Cataldi A, Botta F, et al. (2000) Serum leptin levels in patients with viral chronic hepatitis or liver cirrhosis. J Hepatol 33: 33-37.
Galati JS, Holdeman KP, Dalrymple GV, Harrison KA, Quigley EM (1994) Delayed gastric emptying of both the liquid and solid components of a meal in chronic liver disease. Am J Gastroenterol 89: 708-711.
Munoz SJ, Heubi JE, Balistreri WF (1989) Vitamin E deficiency in primary biliary cirrhosis: gastrointestinal malabsorption, frequency and relationship to other lipid-soluble vitamins. Hepatology 9: 525-531.
Phillips JR, Angulo P, Petterson T, Lindor KD (2001) Fat-soluble vitamin levels in patients with primary biliary cirrhosis. Am J Gastroenterol 96: 2745-2750.
Sarfeh IJ, Aaronson S, Lombino D, Rypins EB, Mason GR, et al. (1986) Selective impairment of nutrient absorption from intestines with chronic venous hypertension. Surgery 99: 166-169.
Bauer TM, Steinbruckner B, Brinkmann FE, Ditzen AK, Schwacha, H, et al. (2001) Small intestinal bacterial overgrowth in patients with cirrhosis: prevalence and relation with spontaneous bacterial peritonitis. Am J Gastroenterol 96: 2962-2967.
Shanbhogue RL, Bistrian BR, Jenkins RL, Jones C, Benotti P, et al. (1987) Resting energy expenditure in patients with end-stage liver disease and in normal population. J Parenter Enteral Nutr 11: 305-308.
Crawford D (1995) Recent advances in malnutrition and liver disease. Journal Gastroenterology 48: 1-4.
Bode C, Bode JC (2003) Effect of alcohol consumption on the gut. Best Pract Res ClinGastroenterol 17: 575-592.
Dinda PK, Leddin DJ, Beck IT (1988) Histamine is involved in ethanol-induced jejunalmicrovascular injury in rabbits. Gastroenterology 95: 1227-1233.
Sarin SK, Dhingra N, Bansal A, Malhotra S, Guptan RC (1997) Dietary and nutritional abnormalities in alcoholic liver disease: a comparison with chronic alcoholics without liver disease. Am J Gastroenterol 92: 777-783.
Shaw BW Jr, Wood RP, Gordon RD, Iwatsuki S, Gillquist WP, et al. (1985) Influence of selected patient variables and operative blood loss on six-month survival following liver transplantation. Semin Liver Dis 5: 385-393.
Jhangiani SS, Agarwal N, Holmes R, Cayten CG, Pitchumoni CS (1986) Energy expenditure in chronic alcoholics with and without liver disease. Am J ClinNutr 44: 323-329.
Dolz C, Raurich JM, Ibáñez J, Obrador A, Marsé P, et al. (1991) Ascites increases the resting energy expenditure in liver cirrhosis. Gastroenterology 100: 738-744.
Müller MJ, Loyal S, Schwarze M, Lobers J, Selberg O, et al. (1994) Resting energy expenditure and nutritional state in patients with liver cirrhosis before and after liver transplantation. ClinNutr 13: 145-152.